Tequila Cocktail Tasting, by Cary at Tequila Connection
With the help of some friends, I mixed up some tequila-based cocktails last night.  When it comes to tequila, I'm more of a sipper than a mixologist.  When sipping, I prefer a quality product and will splurge on a bottle more than if mixing.  However, even with mixing, I always use 100 % agave tequila.  Armed with All-Natural, Handcrafted Bloody Mary and Blood Orange Mixers, courtesy of Powell & Mahoney (P&M), we enjoyed some cocktails along with some chips & guacamole, and other tasty grub.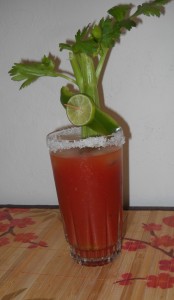 Leading off, the Bloody Maria gets points for simplicity.  Ingredients: 1 ½ oz. of Reposado Tequila and 4 oz. of P&M's Bloody Mary Mixer poured over ice in a kosher salt-rimmed glass. Garnish with a celery stalk, lime wheel and a slice of Jalapeño pepper. This mix makes for a respectable Bloody Maria.  Strong flavors, yet balanced and a lengthy finish of warmth. Willie stated the salted rim helped highlight the citrus, tomato and peppery notes.  No need for any other sauces or spices. Green olives would have been a welcome addition, but I was fresh out.  The cocktail paired nicely with the chips and guacamole.
Next, we enjoyed my take on a Pepino Cocktail.  A couple hours earlier, I muddled sliced cucumber, fresh basil & slices of jalapeño and let it soak in about 6 oz. of blanco tequila.  For the drink, the strained tequila joins 1 ½ oz. fresh-squeezed lime juice, about 3 oz. pineapple juice, and an ounce or so of agave nectar.  This concoction was poured into 4 glasses, over ice, topped with about 2 oz. of Squirt.  Garnish with a slice of cucumber and a sprig of fresh basil.  This savory and spicy cocktail has a bit of sweetness that finishes very refreshing.  Sorry now that I didn't snap a picture of it.  Plates of food arrived distracting us briefly, then we were back to mixing and sampling…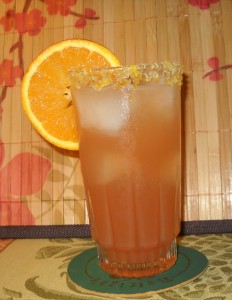 Batting third, a Blood Orange and Ginger Beer tequila cocktail.  The rim gets a coating of granulated sugar and orange zest.  1 ½ oz. blanco tequila, 2 oz. Powell & Mahoney's Blood Orange Mixer, a drizzle of fresh lime juice topped with a couple oz. of Ginger Beer.  Garnish with an orange slice.  Heavy citrus aroma and flavor with a tequila (agave) presence.  The Ginger Beer kicks in during an effervescent finish making for an interesting profile.  The sugary citrus from the rim was a nice touch for Linda, the sweet tooth in our group.  I thought the presentation needed something green, maybe a lime wedge. All-in-all, a good cocktail for a warm summer day.
We attempted one more cocktail – a variation of something I have whipped up on occasion for group gatherings.  I call it a cactus cooler, but John called it a kryptonic concoction, which sounds fitting because these babies can be dangerous.  In a pint glass with some ice, add 2 oz. Reposado Tequila, 2 oz. P&M's Blood Orange Mixer, ½ oz. Pomegranate juice topped with about 2 oz. Squirt.  Garnished with a lime wheel.  John and I both thought the tequila flavor was lost too much with these proportions, thus we floated about 1/2 oz. Don Cuco Sotol on top. This variation added dimension making the drink more interesting, with the smoky-vegetal notes of the Sotol cutting through.  Again, I failed to take a picture of this cocktail, but I did get some of the tasters during round 3…  Also, Thanks to Anna Dutkowsky at Powell and Mahoney for providing the samples.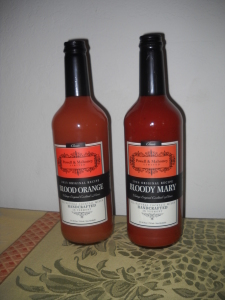 |

Comments (0)
Blogroll

Tequila Sites

Categories

Recent Comments